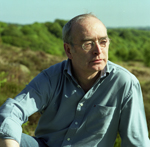 In memory of Clive Leyland, who passed away on 22nd December 2007, Barrie Seddon who joined him on 26th April 2018 and Michael Austen who joined them both in August 2019.
All were members of the final Auld Triangle who contributed so much to both the Band and the award winning Westhoughton folk club, we won the 'Best Folk Club of the year" award in first ever Radio Two folk Awards in February 2000.
Clive was in the "Final Triangle" for eight years and was an incredible musician. After the Auld Triangle Clive continued performing with Bandersnatch, as a session musician and as a Solo artist. He released a solo cd "A Northern Man" in 2004 for which I had the pleasure of doing a shoot for the cover with him. His website can be found here: http://www.cliveleyland.com/
Barrie joined Auld Triangle in 1994 having had a much varied career in the music industry. After the demise of Auld Triangle he was last seen playing in his band 'The Grandads', with Chris Jones and Roger Ennis, and had been spotted acting as a roadie for the Happy Mondays.
As he was cremated to the sounds of the Rolling Stones I just thought - What a Guy!