Click on thumbnail for a larger view !
©All the photos are the copyright of Roger Liptrot ©
"Our pal Roger Liptrot was there shooting pictures ? he is an excellent photographer
and has caught some really good shots of us over the years.
Some of these have been on our website, on our posters and in our promo material."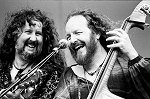 See other photos: